​What Does Compliance Do?
Compliance may not be the first thing you think about when you think of big investment banks, asset managers, private equity firms or hedge funds, but it remains an important part of the operations of any financial institution.
Without a compliance team, a financial institution cannot operate at all and would be shut down by the relevant regulator, like the Financial Conduct Authority (FCA) in the UK or the Securities and Exchange Commission (SEC) in the US.
​
What are the key duties?
Some of the key duties that a Compliance Officer may undertake daily are listed below:
Fostering an ethical culture at the firm

Avoiding fines and other penalties

Creating, monitoring and reporting on internal policies and processes: IT, Strategy, OH&S (Occupational, Health & Safety), KYC (Know Your Customer), PEP (Politically Exposed Person) and Sanctions

Legal research and anticipating future changes

Leveraging future changes in regulation

Reviewing marketing material and disclaimers

Training sessions to staff

Answering 'can we do x?' questions

Conducting internal audits

Assisting with disciplinary proceedings

Reporting to the regulator

Making sure that advice considers business objectives
​
Compliance Officers' jobs can be very stressful because they act as internal police. This raises obvious problems with conflicts between the Compliance Officer and their employer. For example, they may wish to be more rigorous in relation to a compliance project but come up against resistance from traders or the executive. To illustrate, here is a graph depicting what Chief Compliance Officers said in a survey to the International Compliance Association about what keeps them up at night:
​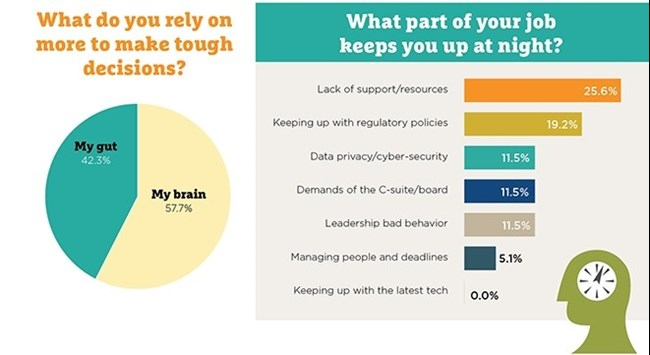 ​
The stress and conflicts inherent in the work, sometimes leads to high attrition rates for Compliance Officers who can no longer operate efficiently in a financial institution. In the recruitment market, this means that Compliance Officers are given a bit more latitude when explaining shorter stints at an organisation. Turnover is higher on average, relative to the legal profession.
​
​
Contact
Felix Blumer is a Consultant at Rutherford, the executive Legal and Compliance recruitment specialists.
Contact us for a confidential search, email us at enquiries@rutherfordsearch.com or see our latest vacancies.
Email: felix@rutherfordsearch.com